What are termites?
The native eastern subterranean termite is the most widely distributed species of termite living in North America, and the most common species in the Mid-South. Subterranean termites nest in the ground and travel back and forth to a food source each day. These insects feed on the cellulose found in wood and plant matter.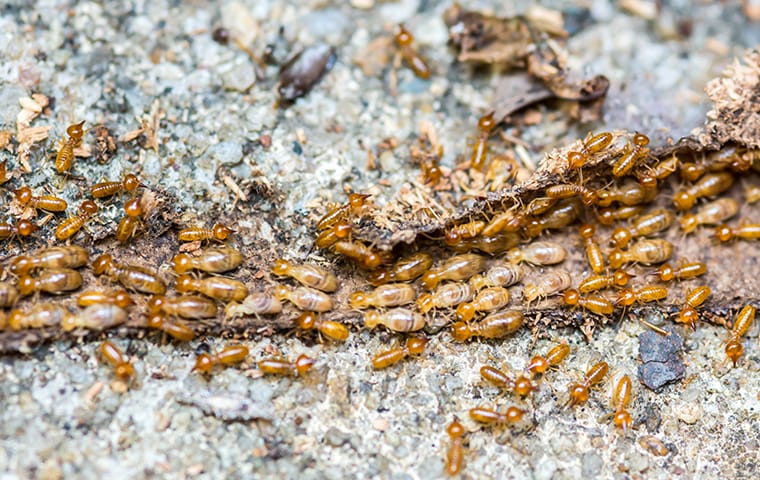 Eastern subterranean termites are social insects, living together in large colonies. They divide the labor up into three different groups, or castes: workers, soldiers, and reproductives. Workers are small, blind, soft-bodied, and are the most numerous members. These workers may not look like they can cause much harm, but they are responsible for over 5 billion dollars-worth of structural damage inside homes and other buildings here in Memphis and all throughout the United States each year.
Are termites dangerous?
Due to the significant and costly structural damage they cause, termites are most definitely dangerous pests. These insects don't cause physical harm to people, but they do cause harm to our homes and our bank accounts. Termites work year-round to feed their colonies, and every day there are termites in your home, more damage is occurring. It is also important to understand that subterranean termites are attracted to water-damaged wood, which suggest you not only have a termite problem, but a moisture issue as well. To add insult to injury, termite damage is not something covered by most homeowners' insurance, meaning you will have to pay to repair the damage yourself.
Why do I have a termite problem?
Subterranean termites often become a problem for homeowners after finding their way inside while out foraging for food. If a termite colony has built its nest in the soil on your property or neighboring property, it is only a matter of time before they find their way into your home or business. Termites accidentally find their way inside through cracks in the foundation or wood-to-soil contact such as deck posts, porch steps, and wooden siding or trim. Once inside, they will travel behind your walls and invade structural wood, especially if it's been previously damaged by water, to feed their colony.
Where will I find termites?
In most cases, subterranean termites are in one of two places: either in their underground nest or inside the wooden structure they are feeding on. When termites get into your home or business, they usually invade structural wood in hard to reach areas such as above ceilings, below floors, and behind walls. Over time, they will begin to feed on sound wood and non-wooden items, causing even more damage.
Winged reproductives are often seen emerging from a mature colony during a termite swarm. They fly from the colony to find a mate and start a new colony of their own. Witnessing a termite swarm indicates that a nest is very likely located on or near your property.
How can I prevent termites in the future?
Utilize the following tips to help keep termites out of your Memphis Metro property.
Leave a barrier of rock or crushed stone between any soil or mulch and your foundation.
Replace mulch with crushed rock, rubber mulch, or other non-organic options.
Use dehumidifiers to reduce moisture levels in your home or business.
Remove water-damaged wood from your home or business.
Fix leaky pipes, faucets, or fixtures, and properly ventilate your crawlspaces.
Remove fallen trees, tree stumps, and excess piles of organic debris from your property.
Clean gutters and install weather-stripping around windows and doors to prevent water from seeping into your walls.
Request Your Free Inspection Today
Complete the form below to schedule your no obligation inspection.