Don't Let Dangerous Rodents Into Your Memphis Home Or Business
Rats and mice may look small and harmless, but they can cause many serious problems when they invade homes and businesses. From destroying your property – including your home or business, itself – to spreading harmful illnesses to you and your family, needless to say, you don't want rodents getting inside. Don't let one of those homes or businesses be yours! Instead, keep local mice and rats out with the help of our home rodent control plan from the experts at Dart Pest, Lawn & Wildlife, serving the Memphis Metro area.
Our Proven Rodent Control Process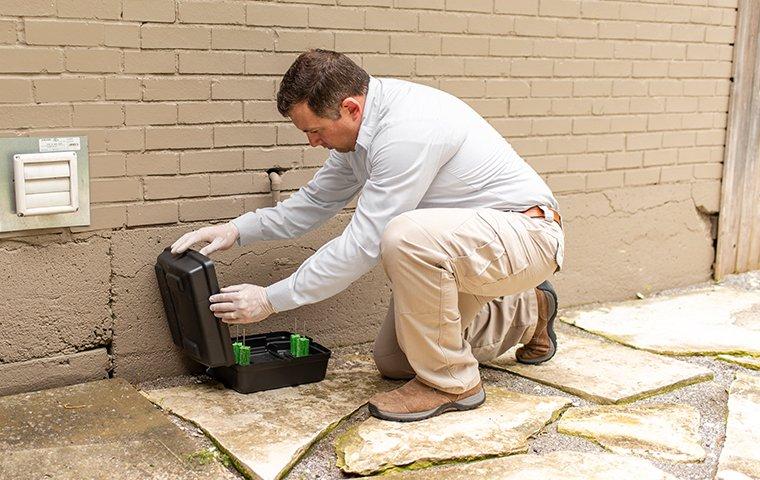 Mice and rats don't belong in your home. Here at Dart Pest, Lawn & Wildlife, our proven rodent control and removal process include the following:
Rodent Control & Exclusion For Mice
Mice typically enter homes through ground-level entry points, so if these tiny rodents are infesting your house, we focus on these areas first when performing exclusionary work. The exclusion work we perform includes the following:
Covering vents and other openings

Filling in other potential entry points

Inserting wire mesh into openings around your foundation
Once all potential entry points have been sealed, we'll set either quick traps or snap traps to eliminate the remaining mice inside your home or business.
Rodent Control & Exclusion For Roof Rats
Unlike mice, roof rats usually get into houses from higher locations like the roof or chimney as they are skilled climbers. If we confirm that roof rats are the rodents infesting your home, we'll focus on these areas while performing our exclusionary work. During the exclusion process, we will perform the following services:
Installing caps on chimneys

Covering dryer vents

Installing gutter guards

Using wire mesh to cover openings
Once we've sealed all potential entry points, we'll set quick traps or snap traps to eliminate your current roof rat problem and ensure your home or business stays rodent-free.
Keep Your Property Rodent-Free, Guaranteed!
With rodent control from Dart Pest, Lawn & Wildlife, you can rest assured that if you're dealing with a rodent problem in your Memphis property, our professional rodent control services will solve it. Depending on the type of service, our rodent control services come with a 60-day to one-year repair warranty, meaning any rodent damages that occur during that time are completely covered! To request your free inspection or to schedule your service, contact Dart Pest, Lawn & Wildlife today!
Request Your Free Inspection Today
Complete the form below to schedule your no obligation inspection.