Professional Bed Bug Control Services For The Memphis Metro
In recent years, bed bug infestations have become increasingly problematic in the United States, including here in the Memphis Metro. Contrary to popular belief, any home or business can end up with a bed bug infestation. Bed bugs in Memphis are hitchhiking pests, and if you don't take the necessary precautions, you or your family members may carry them right into your home without knowing. If you suspect that you have bed bugs, the only solution is to seek a professional bed bug treatment from Dart Pest, Lawn & Wildlife!
Our Proven Bed Bug Control Process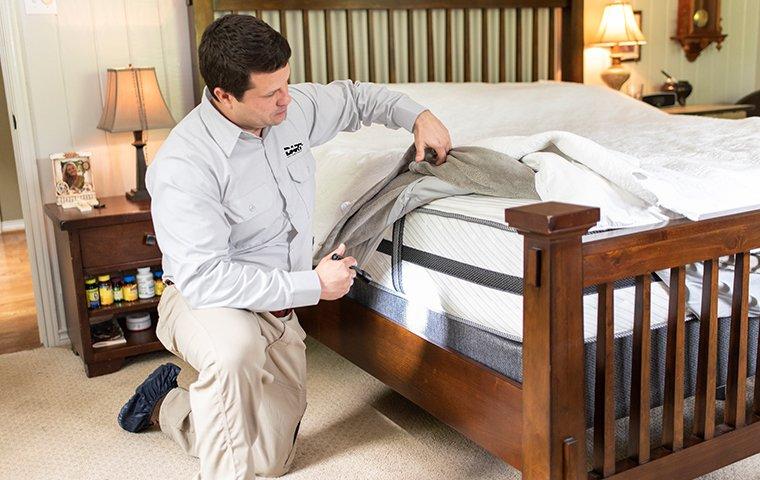 At Dart Pest, Lawn & Wildlife, we provide quality treatments to eliminate your bed bug infestation following our proven bed bug control process:
Free Inspections
When you partner with us, your bed bug control service will begin with a free inspection. During this inspection, we'll examine the areas in your house where bed bugs are most likely to hide such as around beds and upholstered furniture.
This step helps us determine how widespread your infestation is, whether it's confined to one room, spans several rooms, or has spread throughout your entire home, and allows us to tailor your treatments to best fit your needs.
Professional Bed Bug Treatments
Based on our findings from the initial bed bug inspection, we'll need to treat either one room or, in more severe infestations, your entire house.
During our bed bug treatment process, we will take apart beds in order to apply the treatments properly. After our treatments have been completed, we do recommend purchasing new mattresses and bedding to ensure that no bed bugs or bed bug eggs remain inside your old bedding.
30-Day Bed Bug Control Warranty
Our bed bug treatments come with a 30-day warranty. If you see bed bugs in your home within 30 days of the initial treatment, we will re-treat your home – free of charge!
Are Bed Bugs Keeping You Up At Night? Regain Your Peace Of Mind!
Bed bugs will do a number on your peace of mind, not to mention your ability to get a good night's sleep. With a bed bug treatment from Dart Pest, Lawn & Wildlife, you can regain your peace of mind, knowing that your home is bed-bug free. To request your free inspection or schedule home pest control service for your Memphis property, contact Dart Pest today!
Request Your Free Inspection Today
Complete the form below to schedule your no obligation inspection.