Stop Termites Before They Damage Your Memphis, TN Property!
When you live in a climate like ours with hot summers and mild winters, unfortunately, termite infestations are a given. If you live in the Memphis Metro area and haven't invested in professional termite control for your property, then your home or business is unprotected, and it's likely that you already have a termite infestation or will have one before long. To avoid the stress and costly repairs that come with a termite problem, partner with Dart Pest, Lawn & Wildlife for quality termite control solutions you can trust!
Our Quality Termite Control Offerings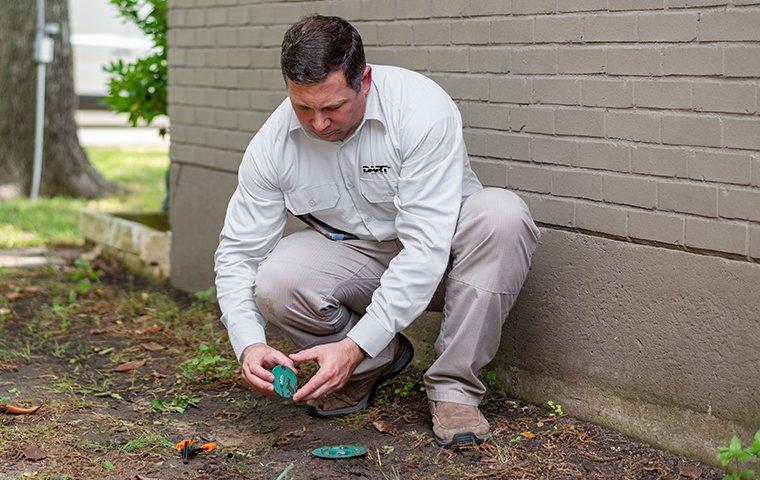 Here at Dart Pest, Lawn & Wildlife, we've seen firsthand just how devastating a termite infestation can be to local homes and businesses. To eliminate and prevent termite problems, we offer a variety of home termite control services:
Termite Treatments For New Builds
If you're in the process of building a home, the best time to protect it against termites is before it's built! Here at Dart Pest, Lawn & Wildlife, we offer soil treatments for homes that are under construction. For this service, we will treat the soil and around the plumbing.
Termite Control For Current Homes
If your home is already built, there are still things you can do to reduce your chances of a termite infestation. For post-construction treatments, We offer conventional liquid treatments unless homeowners request a termite baiting system.
The best treatment method for your home will be determined based on your specific situation and personal preference and will work to eliminate current infestations and keep your home or business protected against future termite threats.
In addition to taking precautionary measures by investing in termite control treatments for your property, we also recommend annual termite inspections to ensure that your home or business remains protected and termite-free. All of our termite control plans DO NOT have a warranty. Some depending on the exterior could be served only.
WDO/WDI Inspections & Reports
At Dart Pest, Lawn & Wildlife, we provide both wood-destroying organism reports (WDO) and wood-destroying insect reports (WDI). These reports are often required by lenders during the home buying/selling process to ensure that the real estate is free of wood-destroying insects like carpenter ants, powderpost beetles, and termites and the subsequent damages of an infestation. And when it comes to this process, why not be confident in your choice by partnering with a trusted local pest control provider!
Professional Termite Protection Is Just A Call Away!
Though termites may be small, and they almost always stay hidden, that doesn't mean they're harmless. Thousands of termites can take up residence in your home and eat away at it until it's unsafe to live there. Protect your property with termite control from Dart Pest, Lawn & Wildlife. To get started, contact Dart Pest today!
Request Your Free Inspection Today
Complete the form below to schedule your no obligation inspection.