Ongoing Pest Control Plans For Memphis, TN Homeowners
Your home should be your haven, not a haven for pests! When pests in Memphis invade, they can ruin your peace of mind, put your family at risk for injury or illness, and inflict costly damage to your home. Protect your home from local pests with the help of Dart Pest, Lawn & Wildlife! With over 45 years of pest control experience, we will solve your pest problems!
Our Residential Pest Control Services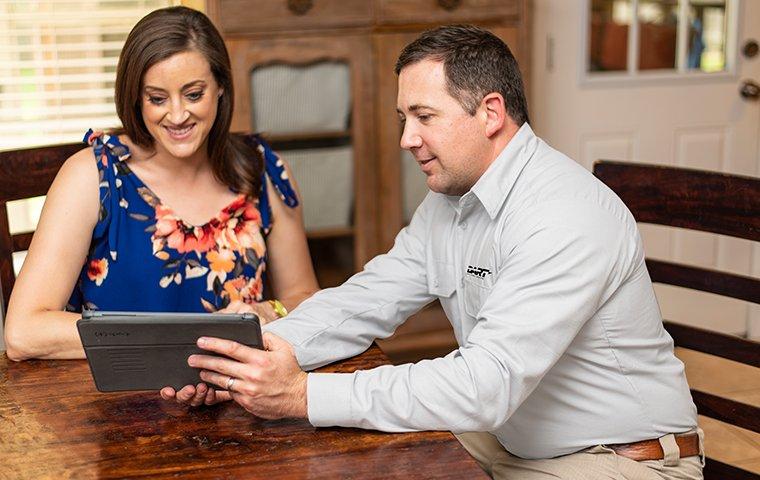 Because every pest infestation is different and every family has different pest control needs, the team here at Dart Pest, Lawn & Wildlife offers a wide variety of customizable pest control services provided on a monthly, bi-monthly, or quarterly basis, designed to fit both your unique schedule and your budget!
Our home pest control plans provide effective and long-lasting coverage for the following common household-invading pests: ants, bed bugs, cockroaches, crickets, earwigs, house spiders, mice, mosquitoes, silverfish, and more.
At Dart Pest, we begin our Tennessee pest control services with a free inspection. During your initial service visit, one of our friendly pest control technicians will visit your home and inspect your property to determine all the current pest pressures you're dealing with. As an additional benefit, we'll also provide you with an estimate so you can choose the plan that's right for you without any surprises!

Once you've decided on a pest control plan that best fits your needs, we'll begin our treatments. We can often provide same-day services to eliminate your pest problems as quickly as possible. During our service visits, we will provide both interior and exterior treatments. Inside, we'll utilize a spray treatment to treat cracks and crevices where pests could be hiding. Outside, we'll treat around the perimeter of your house, along the edges of windows and doors, and in cracks and gaps that pests may use as entry points. After your initial treatment, we'll return on a regularly scheduled basis, depending on which plan you choose, to ensure that your home stays pest-free all year long.
Our Trusted Home Pest Control Process
Pest Inspections
Before performing any treatments, one of our highly trained pest control experts will conduct a thorough inspection of your home and yard to determine the scope of your pest problem. This inspection will help us target our treatments to your specific needs and ensure you are getting the most effective treatment possible.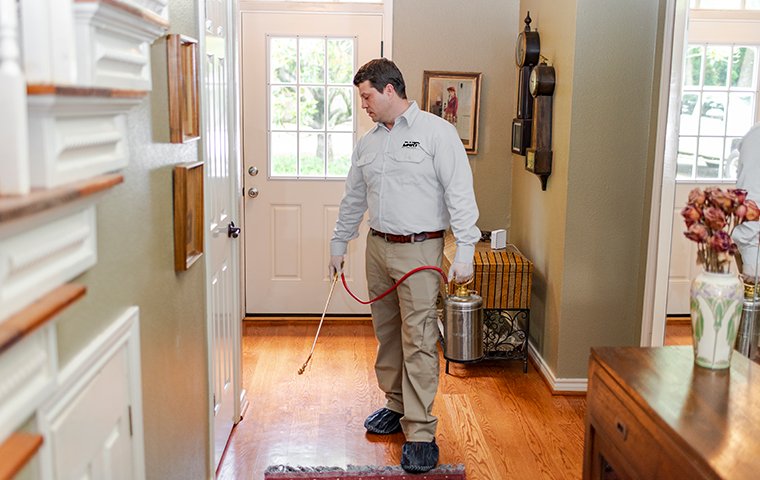 Pest Control Treatments
At Dart Pest, we don't believe in providing a one-size-fits-all approach to pest control. Instead, each of our services are customized to your specific needs and can include both interior and exterior treatments. With one-time and ongoing service options, you're sure to receive the personalized pest control you're looking for.
Follow-Up Services
At Dart Pest, Lawn & Wildlife, we stand behind our pest control services! Besides our regular service visits, we also provide a follow-up on any service that doesn't successfully eliminate your pest problem, and we won't quit until your pest problem has been resolved! For ongoing pest control, consider one of our pest plans!
Our Additional Pest Control Offerings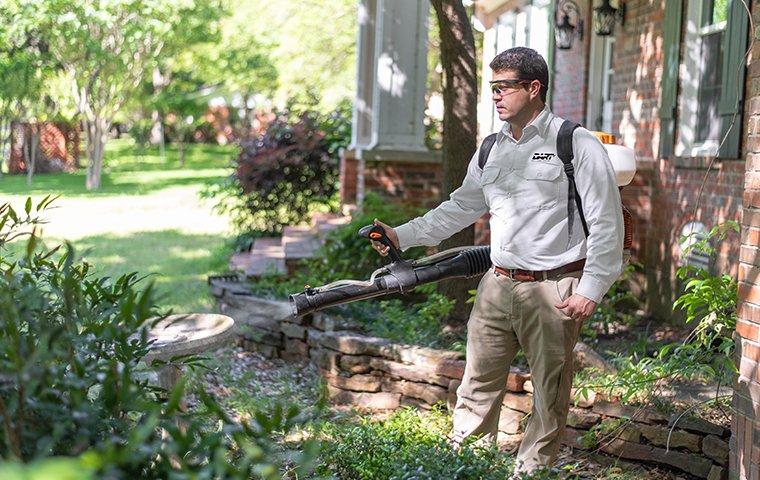 While some pests are more common in our area than others, oftentimes pest infestations go beyond the usual invaders like ants, silverfish, and spiders. When you need to rid your home of a specific pest, Dart Pest, Lawn & Wildlife offers a variety of targeted pest control solutions to get rid of your pests, including:
Bed Bug Control - Includes FREE bed bug inspections. Single-room and entire-house bed bug control treatments. Aerosol and conventional treatment options are available. This service comes with a 30-day warranty.

Cockroach Control - American cockroaches: One-time treatments. Interior and exterior treatments. Conventional or bait treatments are available. 30-day warranty. German cockroaches: Monthly treatments. Bait treatments and spot treatments for cracks and crevices are available. Once your cockroach problem is under control, you can get started with our quarterly service.

Flea & Tick Control - Interior and exterior treatments. Follow-up visit scheduled 3-5 days after service. Aerosol and insect growth regulator treatments are available to halt the flea and tick breeding cycles in your yard.

Mosquito Control - Seasonal Monthly Mosquito Reduction Plan (from March-October). Includes treatments for the perimeter of the home and yard and up to 1/3 of an acre using a backpack mister or truck sprayer. Includes the reduction of areas of standing water and recommendations to reduce mosquito activity. One-time mosquito control services are available.

Rodent Control - One-time rodent control services. Includes coverage for mice and rats. Utilizing quick traps and snap traps. We also provide exclusion for mice and rats. Exclusion for mice is focused mostly on the ground such as inserting wire mesh around the base of the foundation perimeter at the bricks and dryer vent covers and covering all potential entry points. Exclusion for roof rats is focused higher up as these rats enter from the roof, and may include the installation of wire mesh on any potential entry points and chimney caps, depending on how they are getting into your home. Comes with a 60-day to one-year rodent repair warranty.

Termite Control - Includes annual termite inspections. Perform WDO/WDI reports. Liquid conventional treatments and bait treatments are available. Depending on the state of the property, we will determine the best treatment option to get rid of your termite problem. Our termite warranty depends on your house type.

Wildlife Control - Includes coverage for opossums, raccoons, squirrels, and roof rats. Offered wildlife control services include live trapping, catch and release, and exclusion. For live animal removal, we'll return to check our traps every 5-7 days. For wildlife-proofing, we will seal or close off all potential entry and exit points, install gutter guards and chimney caps, if needed, and sometimes even use a trail camera to see exactly where they are coming in and out of. Comes with a 60-day to one-year wildlife repair warranty.

Wood-Destroying Organism (WDO) Inspections - One-time wood-destroying treatments. Includes coverage for carpenter ants, termites, powder post beetles, and wood-boring beetles. Spot treatments or comprehensive treatments for your entire property. Conventional treatment options available.
Our specialized pest control treatments are available on a one-time or recurring basis, depending on the pest, the size of the infestation, and your individual needs.
If You Have Pests, Dart's The Best!
Founded in 1973, Dart Pest, Lawn & Wildlife has proudly been providing home pest control services for Memphis, TN, and the surrounding areas for 15+ years, and we'd be happy to help solve your pest problem too! With a variety of pest control offerings to give you the quality pest management you need without the extra treatments you don't, our team is here to dedicate ourselves to providing you with excellent customer service, effective pest control, and convenient scheduling at affordable prices. Be smart, call Dart!
Request Your Free Inspection Today
Complete the form below to schedule your no obligation inspection.