Memphis' Helpful Guide To Brown Recluse Spider Control
8/27/2021
There's a certain sense of panic when someone discovers a pest infestation in their home, but that anxiety gets pushed to a whole new level with a spider infestation. While these arachnids are incredibly beneficial to curbing insect populations in our environment, they're not great house guests, and they can often get unnecessarily aggressive when they feel threatened. Most home-infesting spiders are relatively harmless, but others like the brown recluse can pose a significant threat to your Memphis household.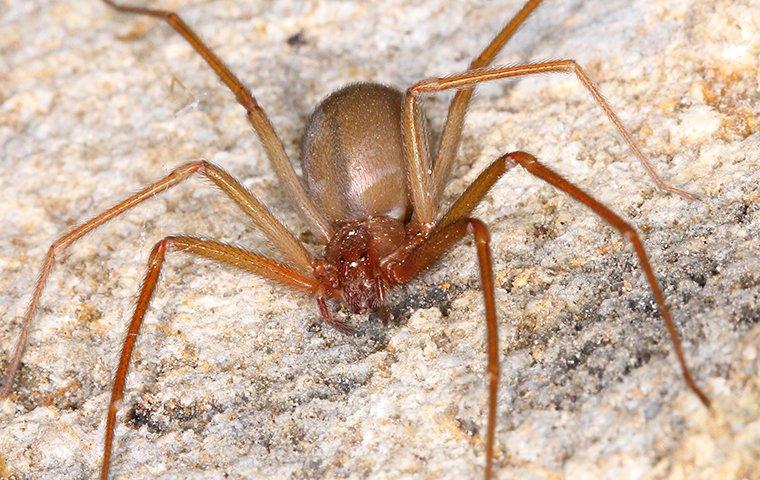 How To Distinguish A Brown Recluse From Other Brown Spiders
Whether it's because there are so many similar-looking arachnids in the world, or their appearance doesn't quite live up to the hype of their infamy, the brown recluse is easily one of the most misidentified spiders in the United States. Truthfully, brown recluses are fairly unassuming in appearance. They only grow up to ¼ to ½ of an inch in size, and they're completely uniform in their tan to dark brown color, save for the slightly darker fiddle-like shape directly behind their eyes.
It may be easier to know what one DOESN'T look like though, so if you notice any of the following, you can breathe easy knowing you're not about to battle a brown recluse:
Larger than ½ of an inch in size

Shiny exterior, rather than a matte color

Any stripes, spots, bands, or mottled coloring on the body and legs

Any spikes, spines, or unusually long hairs

Eight eyes instead of six, if you happen to look close enough

The fiddle-like shape is unusually dark; there's more than one spider with a fiddle marking
The Dangers Brown Recluse Spiders Pose To Memphis Homes
Even though a brown recluse infestation is rare, and receiving a bite is even more so, you still run the risk of a possible bite if you do happen to discover an infestation. As of now, there isn't an antivenom to counteract the symptoms of a brown recluse bite, and most reactions are mild; itchiness at the site of the bite, a rash, and flu-like symptoms are the most common reactions. There are rarer, more life-threatening symptoms as well though, such as kidney failure, blood disorders, coma, and death. Brown recluse or not, all spiders are venomous, so it's always advised to seek medical attention if you think you've been bitten.
If you're hoping to protect your home against possible future infestations, then all it usually takes is a little elbow grease and a can-do attitude, along with some yard work and minor home repairs:
Rake up and remove any wood, leaf, mulch, and debris piles from around your property

Replace worn-down insulation around windows and door frames

Always inspect firewood, boxes, and furniture that have been stored outside before bringing them into your home

Repair any cracks, gaps, or holes around the exterior siding, foundation, and roof

Inspect for any other possible underlying pest issues

Check for leaking pipes or extensive water damage, and repair as necessary

Proper food storage; keep dried goods in airtight containers, and never leave food sitting out overnight
How To Handle A Brown Recluse Infestation In Your Memphis Home
With how dangerous brown recluses can be, it's never advised to try to handle an infestation on your own. Hiring a trusted pest control company will be your best bet at besting these blasted beasts, and there's no better beast beater in Memphis than Dart Pest, Lawn, & Wildlife. Our locally-owned company offers a wide range of affordable pest control plans to choose from, and with nearly 50 years of experience, you can be sure you'll be getting the best service available. Don't take our word for it though, get in contact with us today and see just how smart it is to hire Dart.