How To Deter The Pesky Memphis Squirrels
10/31/2022
Squirrels are interesting little critters. In some ways, they are amazing and fun. If you have ever sat on a park bench and watched squirrels play and dash around trees, you know what we are talking about. The only problem is that these bushy-tailed rodents regularly invade area properties and cause trouble. If you are looking for how to deter squirrels here in Memphis, our experts have some things you should know today. To quickly deal with an existing problem in your yard, call Dart Pest, Lawn & Wildlife. Our team specializes in wildlife pest control in Memphis and would be happy to help you manage these fun but problematic rodents.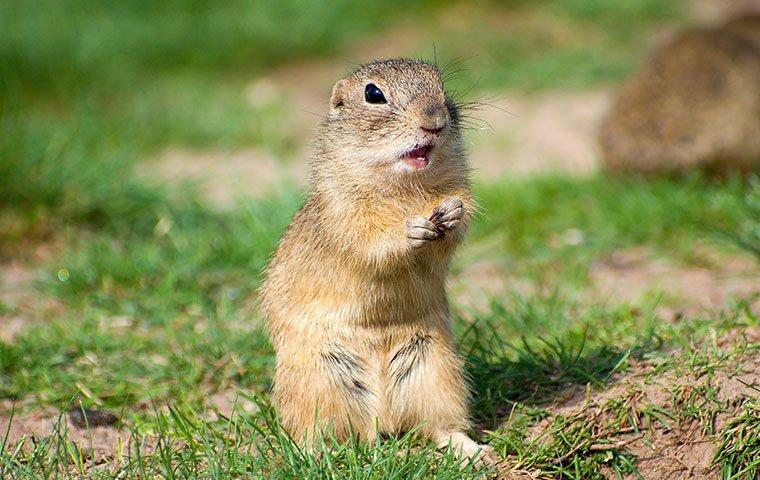 Where Squirrels Like To Hide
Squirrels are agile rodents. They are capable of quickly climbing trees and often use burrows higher up to find shelter. You might find squirrels nesting inside trees on your property. Ground squirrels, on the other hand, are more likely to dig burrows into the ground. They will hibernate inside these extensive burrows during the winter months to stay warm. Both ground and tree squirrels look to homes during the colder months for safe and warm places to hide. If your building is not properly sealed, these bushy-tailed rodents might come indoors and cause problems.
Deterring Squirrels In Your Attic
Unlike rats and mice, squirrels do not invade homes to search for food or moisture. They only come inside to avoid negative conditions outdoors. Most often, these pests break in through attic windows, chimneys, and damaged rooflines. They then build nests inside attic spaces and store their food inside them. If you are looking for how to keep these rodents away, here are a few squirrel prevention tips to try today.
Repair damage to your home's windows and doors.
Make sure your home's roofline and chimney are in good condition.
Install a rodent-proof cap on your chimney.
Keep upstairs windows closed when you are not using them.
Fill in holes around your property.
Install a fence around your yard and garden.
If you need more help deterring different types of rodents from your home, consider investing in a comprehensive year-round rodent control plan. At Dart Pest, Lawn & Wildlife, we offer detailed options to remove, relocate, and prevent problematic pests like squirrels.
Getting Rid Of Squirrels In Crawl Spaces
Another place squirrels will invade is crawl spaces. This area is away from human foot traffic and sheltered enough to avoid harmful outdoor conditions. If you are looking for a way to remove squirrels from your crawl spaces, be careful how you approach the situation. The best method for luring these pests out is using some form of trap and bait. Considering that industrial-grade rodent traps are expensive, it is usually smart to hire a pest control provider with access to these tools. At Dart Pest, Lawn & Wildlife, we invest a lot of money into our rodent control options so that you don't have to. We would be happy to put our services to work for you today.
Total Wildlife Control For Memphis Homes
There is only one way to guarantee squirrels stay out of your home, and that is with professional wildlife control courtesy of Dart Pest, Lawn & Wildlife. Our team is committed to your safety and will do everything possible to protect you from invasive and harmful rodents like squirrels. If you want a company you can trust with your home's care, let us prove ourselves to you.
Contact us today if you want to learn more about our services or are ready to schedule an appointment for your Memphis home and property.